Special Offer for DIYPLR Customers Only
Grow & Profit From Your List
With This Value Package of Must-Have WordPress Plugins
Available Until Monday, August 24
A $188 value that you can get for a fraction of the cost as one of Alice's valued customers
Email is still among the most effective marketing strategies you can employ and there are numbers to prove it.
Listrak reports that 72% of US Internet users opened and read promotional emails. This is true regardless of gender or age, even for millennials. They found that this group is the most likely to open and read promotional emails, at 75%. In another poll conducted by Principal Financial Group, almost half of US Internet users aged 25 – 35 said they wanted to communicate with retailers via email. The message is clear for marketers.
Make List Building Easier with These Exclusive WordPress Plugins
Plugin #1: Comment Promo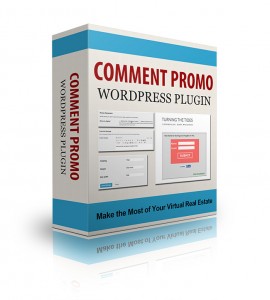 What happens after your reader leaves a comment on your blog? If yours is like most other sites, the answer is…nothing.
She simply has no place else to go, nothing else to do, so she leaves. Often, never to be seen or heard from again. That's just the default behavior of most commenting systems, and it's costing you in conversions, increasing your bounce rate, and lowering your profits.
Introducing Comment Promo
Simply put, the Comment Promo Plugin gives your readers a clear direction to pursue after they've left a comment. They won't see that ultra-friendly message, "Your comment is awaiting moderation" or worse, be dumped right back on the page.
Instead, they'll be offered exactly what you want them to see. You can…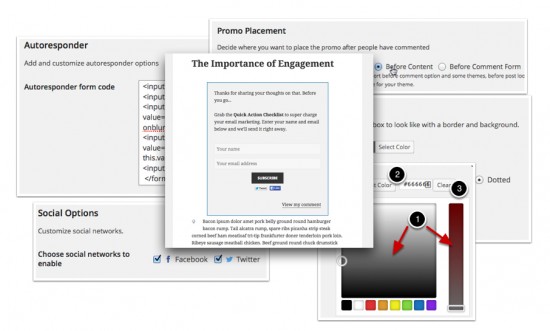 Include an offer for your latest product release.
Provide a "commenter only" coupon.
Promote a related affiliate program.
Ask readers to follow you on social media.
Ask them to share your content with friends.
Present an opt-in form for your mailing list.
Remind readers about an upcoming event you'll be attending.
Create some buzz about your next product launch.
Invite readers to join an upcoming webinar to build your list.
As you can see, the possibilities are nearly limitless. That's because this easy-to-use plugin comes equipped with…
A WYSIWYG editor for complete control over the look and feel of the text.
The ability to add images and clickable buttons.
A super-simple opt-in form integration panel that works with any autoresponder service.
One-click social media buttons.
Unlimited design possibilities – no CSS needed!
The option to easily choose background colors, borders, and more.
And even better, because this plugin is designed for WordPress, you know it…
Will be easy to install and configure using a simple point and click interface.
Makes use of WordPress' built-in editor so there's no learning curve.
Takes advantage of your current theme so you maintain your branding.
Is simple to update so your site stays secure.
Make the most of your virtual real estate and don't miss an opportunity to engage with your readers in a new and unique way. This innovative plugin gives you a chance to turn a single comment into a solid relationship by offering more interaction just when your reader is most interested!
Watch this video to see how the plugin works.
https://www.youtube.com/watch?v=7j1u_Ye9PVc
Plugin #2: PopOnScroll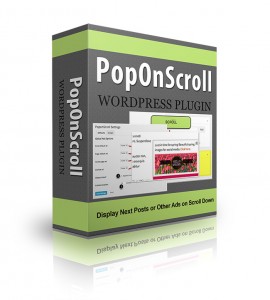 What happens when a new visitor gets to the end of your blog post? Ideally, of course, you want her to read more of you articles, subscribe to your mailing list, click an ad, or maybe just leave a comment. But more often than not, what she actually does is leave.
Sure, you've got all kinds of enticing stuff lined up, and it's all designed to grab her attention and compel her to take action. But just like with sidebar ads, we're becoming blind to the array of options that appear at the end of blog posts. Or worse, there's so much going on that we can't make a decision and we simply click away.
Introducing PopOnScroll
PopOnScroll is a lightweight, fully customizable popup that appears only as a reader nears the end of your post, allowing you to capture her attention at the perfect time.
Because it scrolls in from the right, it's unobtrusive as well, and won't blog important text on your post. Not only that, but since it's fully customizable, you can create any type of content in any format. In short, you can give your readers exactly what they're looking for!
PopOnScroll Plugin lets you…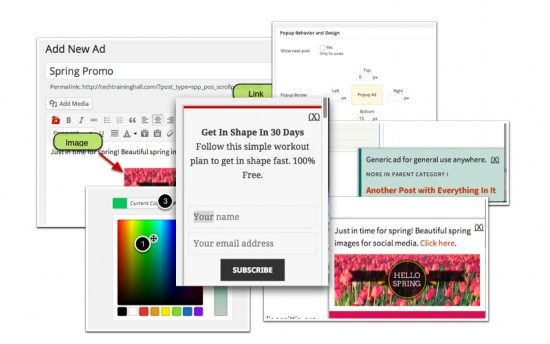 Create an unlimited number of pop-up ads
Include an opt-in form
Set default behaviors for each ad, but easily override them on an ad-by-ad basis
Change the background color, add images, and even clickable links with the familiar WordPress post editing screen
Set custom cookie duration so visitors don't see the same ad again and again
Set different default ads for posts, pages, and even archive pages
Promote a content upgrade to get people in your mailing list
Set custom ads on specific posts and pages for maximum effectiveness
Embed images, links, and even video in your ads
Use all the formatting tools WordPress provides to create exactly the look you want
It really couldn't be easier to create attention-grabbing ads that appear just at the right time. See it in action.
https://www.youtube.com/watch?v=bS1qnHZRkcM
Plugin #3: Link Gate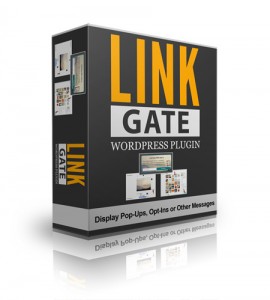 Are your readers missing important pieces of information? Here's why. We simply don't have time. We're always in a hurry to get to the next email, the next video, the next social media site. 
The result? We scan the content, click the links, and move on. For the website owner, that means you have to work even harder to get a reader's attention and get her to take action.
Colorful, Eye-Catching Pop-Up Messages Encourage Action
You have a number of options for grabbing a readers attention–and you probably use them all: images, call-to-action buttons, videos and more. The trouble is, all of these methods can fade into the background. Your readers often don't even see them. 
Here's a novel idea that is sure to attract attention, though: an on-demand pop-up. Unlike a timed or exit-intent pop-up, an on-click pop-up only appears when your reader takes action. She clicks a link, and your pop-up appears–instantly capturing her attention and encouraging further engagement. 
You can see how powerful this method can be when it comes to getting readers to take action…
Introducing LinkGate
LinkGate is a WordPress plugin that allows you to create a wide variety of eye-catching pop-ups that only appear when your reader clicks a link. From "Click here for more information" to a fully functional opt-in pop-up form, LinkGate WordPress Plugin is the answer to your engagement issues. 
Now you can make any link open a pop-up window, which not only gives you an easy way to pass important information to your readers, but when used with an opt-in form, can actually increase your opt-in rates.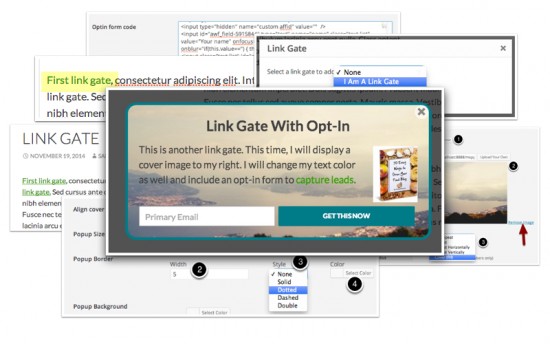 Works with any mailing list provider–no complex configuration needed. 
Easily include images and HTML in your pop-ups.

 

Unlimited color choices to match any theme.
Use for opt-ins, information and more.
Add background images, borders and more with the simple point and click interface.

 

Create unlimited Link-Gates for use on any page or post on your site.

 

Add customized calls to action to every post–give your readers exactly what they need, right when they need it.

 

Create informative, pop-up "Learn more" content to make training programs or step-by-step instructions easier to follow.

 

Opt-in forms use both name and email or only email for total flexibility.
In short, LinkGate WordPress Plugin gives you total control over your information and opt-in pop-ups without any of the headaches you've experienced before. Watch how it works.
https://youtu.be/wCG0eaO0QJw
Plugin #4: Side Stripe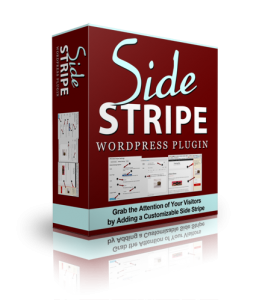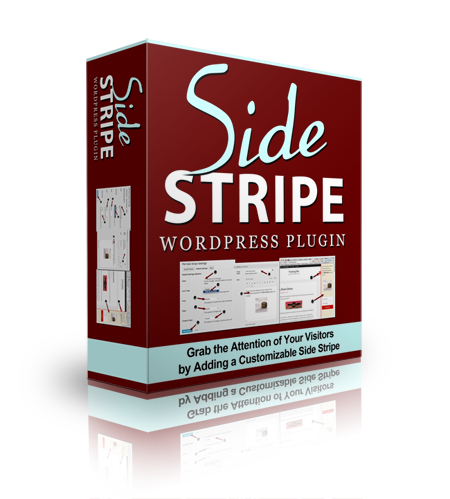 Have you noticed that getting your readers' attention is more and more difficult? Attention spans are shorter, distractions are everywhere (both online and off) and getting people to take action on your site has become nearly impossible.
If you're like most website owners (and readers) you've probably noticed that no matter how "in your face" those pop-up ads are, the first reaction is to click that tiny little "x" and close it.
And if that pop-up shows up too soon for the reader, it's even worse. Interrupt her reading before she's had a chance to get interested, and she's just as likely to close the page as simply close the pop-up. But the fact is, it's time to try a different solution.
Surprise Your Readers And They'll
Sit Up And Pay Attention
We've all heard that we have about 3 seconds to grab a reader's attention. Some pop-up users take this to mean they should flood the screen with annoying, eye-catching ads right from the get-go.
And if all you want is for readers to click an ad or leave your site, that's a good plan. But if you want to really engage them, and have them coming back for more, you need a better idea.
You need to give them something they want and need, in a way to unexpected they can't help but notice. And you need to do it in a way that won't drive them away from your site in a fit of irritation.
Side Stripe: An Unusual, Customizable Solution To Engage Readers And Encourage Action Takers
The answer?
Something different. An attention-grabbing (but not annoying) ad space that draws the eye without blocking the view. Side Stripe Plugin for WordPress is the perfect choice.
With Side Stripe, you get all the advantages of pop-ups with none of the ad blindness or irritation. And since it's fully customizable, you can make it look and act exactly the way you want.
At its most basic, Side Stripe adds a "slide out" sidebar that appears on any page or post, but it offers so much more than that…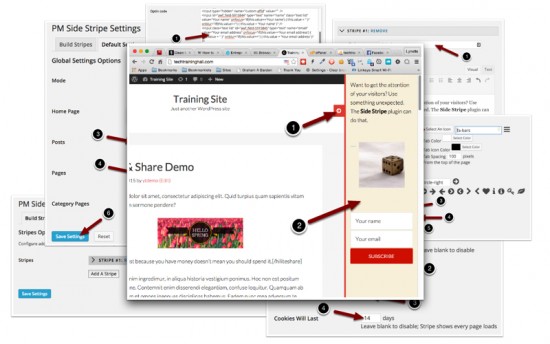 Add images for visual interest and better conversions.
Style text to match–or contrast–your site content.
Add links to any page, post, product, social media site–anything you want your readers to see.
Choose from unlimited color and border combinations to draw attention to your important content.
Add a background image for instant appeal.
Choose just the right delay time for individual side stripes, so it shows up right when your reader needs it.
Change cookie settings so returning visitors won't be flooded with side stripes on every visit.
Adjust the tab placement location and color to find the right combination for your readers.
Set a default side stripe for all pages and posts.
Create individual side stripes for important pages or posts to add custom calls to action right where you need them.
Change the tab icon to help eliminate those blind spots readers develop over time.
Complete Flexibility And Endless Uses
With all that going for it, it's easy to see how Side Stripe will quickly become your go-to reader engagement tool. But the true power of Side Stripe is in its flexibility.
You can create…
Opt-in forms–works with any autoresponder service that provides HTML forms.
Closeout and sale items–add images and links to your store.
Special events–boost ticket sales with a well-placed side stripe ad.
Social media links–Encourage readers to follow you on Facebook or Twitter, or view your Pinterest boards.
Consultation offers–coaches and consultants with a need for more clients can easily fill their calendars.
Webinars – get people to attend your information packed presentation
Teasers–Rolling out a new program? Give your readers a taste of what's to come.
Affiliate offers–add a few sentences of copy and a link to a great product your readers need.
Surveys–market research is easy when you can drive your readers to your survey right from your latest blog posts.
Every time a new visitor lands on your site, ensure that you grab her attention with the fully configurable Side Stripe plugin.  Watch the video for a quick demo.
Save Big
But Only Until August 24
For a limited time, you can get all four plugins valued at $188, for only $47. Here's what you will receive:
Personal use license for Comment Promo, PopOnScroll, Link Gate, and Side Stripe WordPress plugins. Use them on any number of websites you own.
Support and automatic updates when we improve the plugins.
User guide to help you understand and implement.
Today is the day to build that list. There's no reason to delay. The earlier you start building the list, the more leads you will have in a week, a month, a year. Download this bundle now.