Congratulations! You Have Found The Deal of A Lifetime!
Kickstart Your Own WordPress Plugin Business On A Budget
Unless you've been living under a rock, you know WordPress is a force to be reckoned with. It's the leading system the top 10,000 sites of the Internet uses, and the market leader on the Internet overall. Don't take my word for it. Here's a screenshot taken just this week from BuiltWith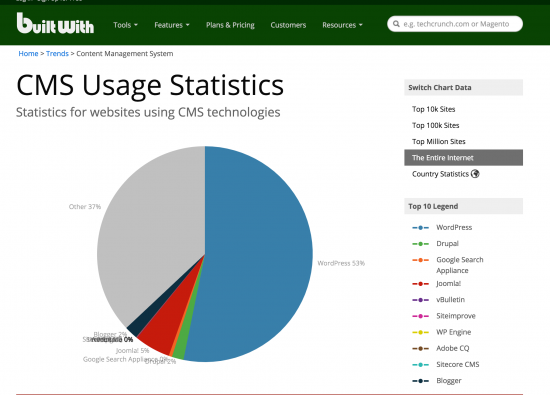 What Does This Mean To You?
Because WordPress is built as a customizable system where people can add themes and plugins of their choice to make it completely their own, the core system is pretty plain vanilla. Every single WordPress powered site out there is bound to use at least one theme and several plugins to do what the site owner wants it to do.
Think about it. That's millions of websites out there who use and need plugins and YOU can offer it to them!
But I Can't Code
That's the good news. You don't have to know how at all because my team and I have already done ALL the work for you. We've created 60 WordPress plugins that you can start selling right away.
That's not all. We've even created the sales copy, demo videos, user guides and product images for you. All you have to do is put it up and start promoting. It doesn't get any more simple than that.
What About Support
Let me ask you a question. Do you know how to copy and paste? Yes? Then you've got support covered. When your customer asks you a question you don't know how to answer, bring that question directly to us. We'll tell you exactly what to say, how to answer it and you can simply relay this information back to your customers.
And if they found an issue, submit a ticket to us, we'll investigate, fix it if needed and send a new copy back to you to deliver to your customer. No coding necessary. No techie knowledge needed at all. In fact, if you wanted to, you could even hire a VA to handle all of this for you so the business is completely hands free for you.
What's My Investment?
I'm glad you asked because for the very first time, we are offering this for a ridiculous price that we've never done before. You get ALL 60 of our plugins with download and update support for a whole year for only $997.
These days, it is tough to hire a good developer and get just one plugin created for that price. Pay someone else $997 to create one or get this crazy package of 60 plugins for the same price. The smart choice is pretty clear.
Warning! Available For 24 Hours Only!
Don't wait a moment longer because this offer is only available for 24 hours, on December 12th ONLY. Once it's gone, it's gone and I mean it.
BEST VALUE
All 60 WordPress Plugins With Private Label Rights For One Year
3-Pay
$397
Today, And Next 2 Months
All 60 WordPress Plugins With Private Label Rights For One Year