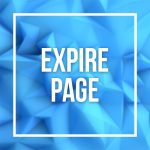 Features
If you sell anything online, then you know that special offers are proven to drive sales. They offer a sense of urgency that compels buyers to take action, and they enable you to raise your prices later with no regret.
The only trouble is, managing all the sales pages and related content – especially on a busy site – can be pretty cumbersome.
Save Time and End Frustration With Expiring Pages
What if you could set up your posts and pages to automatically redirect to a different page on a specific day and time? Now, rather than backtracking through all of your promotional material and trying to figure out what should be removed when, you can easily set up the system ahead of time, for hands-free results you don't have to even think about.
Here's how it works:
Simply install the plugin in any WordPress site, choose a few simple default behaviors, and then change the status on any post or page to "expired" for an elegant solution to issues caused by expiring offers.
Expire Page plugin is easy to use and maintain, without…
Difficult shortcode syntax to configure.
Messy and unpredictable javascript code in your posts.
A dizzying array of options and settings to leave you feeling as if you need a PhD in php to manage.
It's a simple, concise solution that just works – exactly the way you want it to, every time.
Expire Page plugin lets you…
Set a global redirect for all expired content, so users never see another 404 error page again.
Override the default settings on any single post for complete control over your special offers.
Expire both posts and pages, so you can control every aspect of your marketing funnel, from blog posts to opt-in pages to sales pages – as long as they're a part of your WordPress site, you can set them to retire.
Choose the exact time and date of expiration – no more waiting until midnight because your cart says you have to.
Automate the process, so you don't have to rely on a VA to remember to redirect a page on the right day.
Manually set any page to "expired" with the click of a button, so you can skip the setup and still benefit.
Create custom messages for your readers, so they know exactly why they're being redirected. No more confusion over missing offers!
Redirect your expired pages anywhere – even to an affiliate offer.
Plus, since Expired Page is a WordPress plugin, you know that it:
Easy to install using the one-click built-in installer.
Works perfectly right out of the box – no fussy configurations to mess with.
Works with any theme and won't interfere with your current style sheets.
Expired Page plugin takes the work out of managing your limited time offer funnels, leaving you with more time to create great content and offers. Not only that, but it will make your advertisers and affiliates happy, because they'll know the traffic they send your way will find a professional setup that always makes sense…even when the offer has ended.
Expire Page
$47
Cart Contents
Technical Information
Requirements:
PHP 5.4 and up
WordPress 4.6 and up