Features
Apply Professional Styles To Your Content In Seconds
You know you write amazing, meaty content but…
Hardly Anyone Reads Your Content. What Gives?
There are a number of reasons. Chief amongst them is something many don't pay enough attention to. Maybe because it's so simple, so easy we don't think it helps much. Which is wrong by the way. If I've learned anything being online since 1999, it's often the simplest, easily-dismissible-by-the-masses stuff that works the best. But I digress… Maybe we don't pay attention because the truth is a bitter pill and that is…
Your Content Is Hard To Read
Listen up: Studies have shown that people don't read online. At all. They scan and they skim. So how is it that popular sites thrive with crazy long content going into thousands of words? The answer is simple. They…
Break It Up
They use things like:
Bullet Points
Pull Quotes
Feature Boxes
Attractive Buttons
Icons
Images
And more…
In fact, if you study closely, they often use a combination of all that, if not all. The whole goal is to make your content scannable. Easy to pick up key points and ideas. Not be a wall of text.
As a smart content producer, you probably know this already. You've probably tried a lot of things like add your own feature boxes but got turned off by some strange coding language called CSS. You are a writer, publisher. Not a web developer.
Nobody Has Time To Learn To Write Code
Maybe you tried using plugins. But, the moment you disabled the plugin…
You End Up With Broken Links.
That is just bad news if your sell with content. No clickable links, no clicks. No click throughs, no sale!
Worst of all, you are left with content looking like this:
[uglycode]This is so confusing and alarming to your readers. They think you are going to fold or your site is trying to inject some spy software on their computer[/uglycode]
That's not the least of your problems. What if you have hundreds or thousands of pages with this code on it? The cost to hire a developer to clean it up may be more than what you're prepared for. All you want is some simple styles to "wake up" your content. It shouldn't be that hard. You are right. We wholeheartedly agree with you. That's why we built Snazzy Press.
Never Worry About Writing CSS, HTML,
Broken Links, Leftover Junk Code,
Or Anything Like That, Ever Again
The Snazzy Press WordPress plugin was built to let you:
Jazz up your bullet points with icons and colors.
Create attention grabbing call-to-action buttons.
Feature your content with boxes with a variety of styles, and any color you wish. In fact, it lets you design these boxes yourself.
Highlight a quote with attractive pull quotes.
All of this, done directly from the familiar and comfortable WordPress editor. No need to learn anything new, no need to spend time and energy teaching your assistants to use complex page editors and plugins.
Say No More, I'm Ready To Order
Want to see what these look like? Easy. Just look up. All the bullet points and button above are made using the plugin. But I understand if you want to see more…
Bullet Icons
There are a total of 30 icons. You can combine them with 8 different colors to suit your content.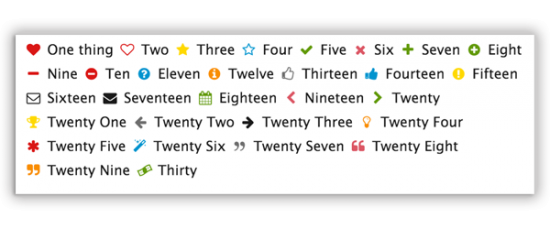 Pull Quotes
9 pre-designed styles with fully customizable background, border, and text colors. You can choose your quote alignment, quote width and add rounded corners if you wish.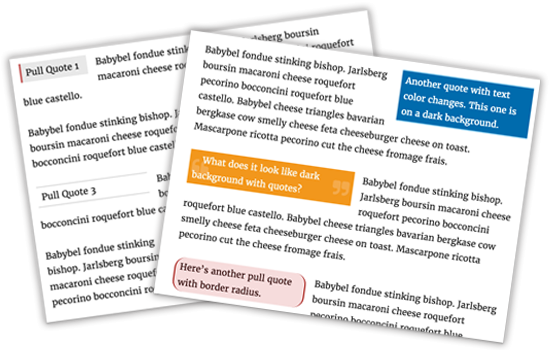 Buttons
Create large, medium, or small buttons. With rounded corners or without. Realistic 3D or flat design in a variety of colors. You can even add icons to boost clicks.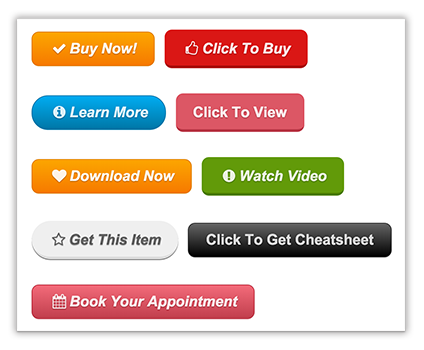 Feature Boxes
Design the box your way. Add background color, change its text color. Add borders of various types. You can also change the box size, align it left right or center, give the box shadows as well as align your text and more.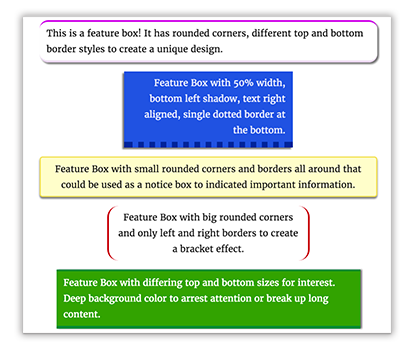 Progress Bars
Show people where they are in the process. Put a progress bar to encourage people to complete your opt-in process. There are so many ways you can use a simple progress bar. Using Snazzy Press, you can add these bars to whatever percentage you choose. Design them with or without background, make them static or animated. And, you can create them in any color of your choosing. Here's a quick snapshot of a few progress bars we made.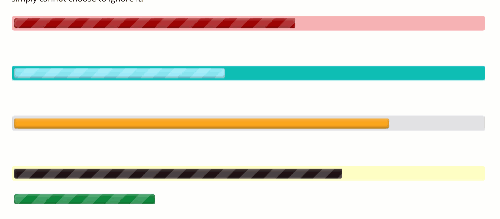 Editable Elements
Not happy with the element after adding them to your page? No problem! You can edit them. Simply place your cursor on the element and pull up Snazzy Press again. The plugin remembers all the colors and settings of each element so you don't have to. Change anything you want and click update. Your edits will appear in the editor immediately. Watch how quickly we edit a button.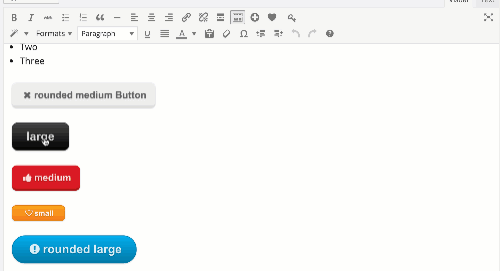 The Snazzy Press plugin is developed to be:
Be Quick and easy to use.
Have low impact (if any at all) on your sites. This means, no images, no additional processing just to display your styles.
Easily viewable as you write and edit your content.
Snazzy Press works inside the built-in WordPress editor. You never have to click off to another screen just to edit the content.
Don't wait another day to make your content more readable. The more time goes by, the more content you have created, the more content you have to go back to fix up. Download It Right Away. Today.
Still not convinced how easy this is? Here's the video again. All this was recorded in real time.
https://www.youtube.com/watch?v=ikV1tuNq2I8
Worried about support and reliability? We've been developing with WordPress since 2004. That's forever in Internet years. This is not our first plugin. We have sold and supported over 40 others 2012 and many more private plugins since 2004. Few plugin developers can say that.
Snazzy Press
$47
Cart Contents
Technical Information
Requirements:
PHP 5.4 and up
WordPress 4.5.3 and up